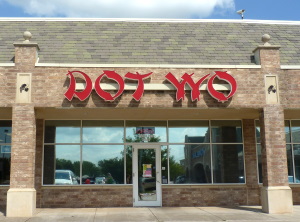 Dot Wo in Chatenay Square offers south Oklahoma City's finest Chinese cuisine, including a dozen soups, chicken, seafood, beef and pork dishes, vegetarian meals, noodle plates and more. We offer online ordering and reservations.
See our menu or order online from our website!
We would like to thank you for your interest in our restaurant and are delighted to serve you a variety of delicious food.
Hours:
Tuesday — Thursday, 11 am — 9:30 pm
Friday, 11 am — 10 pm
Saturday, 11:30 am — 10 pm
Sunday, 11:30 am — 9:30 pm
Info:
10600 S Pennsylvania Ave
Oklahoma City, OK 73170
(405) 691-4888