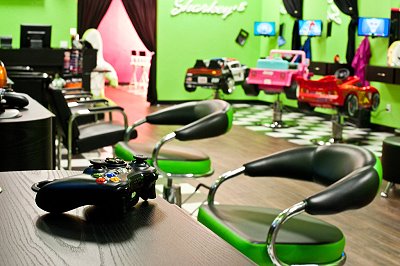 Come to Sharkey's Cuts for Kids in Chatenay Square for a unique haircutting experience. We deliver exceptional customer service in a fun-filled environment.
At Sharkey's, we cater to all ages. The younger children watch their favorite cartoons while sitting in their car of choice – Dodge Police Cruiser, Barbie Jeep, or Lightning McQueen Race Car. When they've outgrown the car chairs they can sit in one of our X-Box stations or have their hair styled in our famous glamour Room.
Sharkey's Cuts for Kids offers the best value over all other kid's salons. Girls' haircuts include wash, style, mini-mani, choice of ring, tattoo, balloon and lollipop. Boys' haircuts include wash, style, tattoo, balloon and lollipop.
Have a birthday party at Sharkey's!
Your birthday girl and her friends will have a blast being the stars of their own fashion show where each girl will be transformed for their moment on the runway.
We'll add the glitz and glamour with a pretty hairstyle, make-up, and nail polish. Then they'll choose an outfit, put on their best smile, and make their grand entrance.
We make it easy at Sharkey's, we provide everything but the cake. We have music and we'll take individual and group pictures to give to the party girl.
The party includes:
Use of the store for 1 ½-2 hours
Hairstyling, makeup, and painted nails with a pretty ring
Dresses, hats, and feather boas
Fashion show
Pizza with juice/soda
Party pillow with signatures from all the guests
Framed group photo with signatures from all the guests
Each party guest receives a bracelet
Invitations
Paper goods and utensils
We have a full staff of professionals ready to assist you. We can help you book an appointment or party, provide directions, help you in planning the perfect party experience for your child. Call us today! 405-692-CUTS.
Visit our website or follow us on Facebook.
Hours:
Tuesday — Thursday, 10 am — 7 pm
Saturday, 9 am — 6 pm
Sunday, 12 pm — 5 pm
Closed Monday

Info:
10700 S Pennsylvania Ave, Suite 22
Oklahoma City, OK 73170
(405) 692-CUTS (2887)