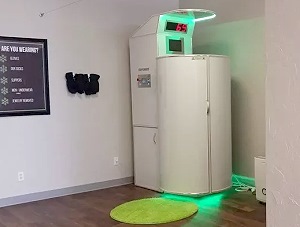 The Chill Spot LLC is Oklahoma City's newest cryotherapy center! Cryo exposes the body to extreme cold triggering a systemic anti-inflammatory response.
We also offer NormaTec compression sleeves which inflate to provide you with three distinct massage techniques – Pulsing, Gradient Hold, and Distal Release – to help aid in your recovery. Massaging compression sleeves provide a relaxing way to improve circulation and aid in recovery.
Like us on Facebook for specials and more! Or visit our website at TheChillSpotOKC.com.
Hours:
Monday — Saturday, 9 am — 1 pm and 2 pm to 7 pm
Closed Sunday
Info:
10600 S Pennsylvania Ave, #9
Oklahoma City, OK 73170
(405) 703-7626