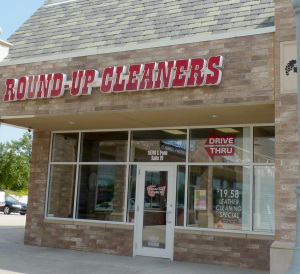 Round-Up Cleaners opened in 1958 in Oklahoma City as one of the most modern cleaners in the southwest. By providing 59 Minute Service, Round-Up Cleaners received national recognition by American Drycleaner as the fastest dry cleaning service in the nation!
Since our very beginning, not only did Round-Up Cleaners have the very latest, state-of-the-art equipment, but we have also provided excellent service as Oklahoma City dry cleaners from day one.
After more than 50 years in business, we are still here to serve you with:
Dry Cleaning
Laundry
Leather Cleaning
Wedding Dress and Formal Preservation
Home Delivery and Pickup
Fire and Water Restoration
Alterations
Drive-Up Window

For more about Round Up Cleaners, please visit our website.
Hours:
Monday — Friday, 7 am — 7 pm

Saturday, 9 am — 2 pm
Info:
10700 S. Pennsylvania Ave, Suite 20

Oklahoma City, OK 73170

(405) 692-0333